Archive for Language Arts
Gryphon House is an exceptional publisher of educational resource books for teachers and parents, public school and homeschool, young children; and administrators.  Their website is easy to navigate and stimulating.  There are hundreds of free activities available for you and your child!

As a member of the Schoolhouse Review Crew, I recently had the opportunity to read The Homegrown Preschooler: Teaching Your Kids in the Places They Live.  The title might be used to describe how I raised my own children; but with my youngest firmly in elementary school now, I was looking for encouragement and direction as I consider teaching other preschoolers from the same homegrown bent.  This book is just what I was looking for!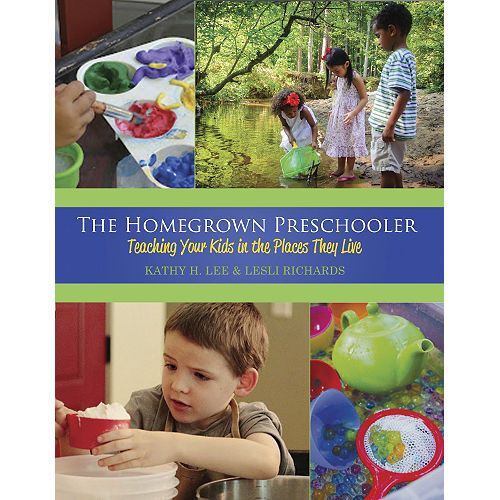 The authors, Kathy Lee and Leslie Richards, are mothers of several children, birthed and adopted; including gifted and special needs.  They have years of education and hands-on experience between the two of them, and their book is beautifully compiled.  A large, 81/2″x 11″, high gloss paperback, it is bold, colorful, inviting; and full of life.  With the family pictures and personal anecdotes generously scattered throughout the book, by the end of it, I felt like I had shared conversations and special moments with wonderful, trusted friends.
From their intros, they had my attention. Kathy Lee says, "Children who experience their preschool years discovering and experiencing are more willing to take risks later in their education journey."  I didn't previously know this, so within the first few pages I gained valuable information.  Then, Leslie said, ". . . much of learning can be done within the everyday rhythm of life — measuring flour, skip counting on the trampoline, bringing a meal to a shut-in, writing letters to friends, participating in interesting conversations about big ideas," and I was reminded of what I do know; and I found encouragement.
The Homegrown Preschooler is divided into 2 sections:
Chapters 1 – 9 help you understand why and how to educate your child/ren at home, giving them a foundation for life-long learning.
Homeschooling – Harvesting a Bountiful Life
Learning through Play
Sowing the Seeds – Preschool Learning
Setting the Stage
Home Life = Learning — Slow Down and Teach
Who Has Time for This?
Organizing It All
Days and Seasons That Don't Fit in the Box
and
Special Circumstances.
The second section is nearly 100 pages, with at least 200 "easy-to-pull-together", age appropriate Activities to prepare your child for kindergarten and beyond.  Promoting a healthy educational balance for –
Home Life
Science
Gross Motor
Fine Motor
Math
Language & Emergent Literacy
Art
and Social – Emotional skills.
An Appendix includes an Activity Checklist, a Getting Started Checklist; and pages of Resources, with web sites, books, blogs and apps to lend a hand, instruct and encourage you along the way.  They share all their favorites!
I tried recipes, for food and play.  There are dozens of them throughout the book.  I've made ordinary finger paints and play dough before, but I'd never made clean mud or puffy paint!  The make-ahead Turkey Taco Pie is easy.  The recipe makes a lot, so it can be divided and frozen for extra pies, but it is actually perfect for my large family.  It tastes good, too!  I hone in on housekeeping and organizational tips, because the Lord knows I can use as much help in that department as I can get.  There are so many good ideas here — some I've had myself, implemented and forgotten, or simply slacked off on, and I've read them as gentle reminders; others are brand new, and more than once I've thought, "Duh, why didn't I think of that!"  For example, we have wood floors and I taught my children how to sweep and mop them.  How much more fun is it to have "The Clean Floor Dance Party: This often dreaded chore will become one of your favorites! Provide your child with a pair of white tube socks and a spray bottle of white vinegar and water. Encourage your child to squirt the hard floor with the vinegar solution. Put on your favorite dance music. Dance and skate around on the floor until it is shiny!"   Clean floor, lots of fun and laughter, plus, with the amount of floor we have, this gets everyone's heart rate up and counts as cardiovascular exercise, or PE, too!
I have no doubt, I will continue to use this book, digging into its riches.  At $29.95, it's a treasure I can share with my daughters who are just beginning to teach my preschool grandchildren.  The Homegrown Preschooler is much more articulate than I am and I think it will be one of the best tools I can offer them for their journey.
My Crew mates had the choice of reviewing this same book or one titled, Global Art.  You can read their reviews when you click the graphic below and follow the link.
Blessings,
Disclaimer*   I received The Homegrown Preschooler: Teaching Your Kids in the Places They Live, in exchange for my honest review as a member of the Schoolhouse Review Crew.  I receive no other compensation for my reviews on this blog.  The opinions expressed are my own.
Thank you for your comments.  I enjoy hearing from you!
Contents of this blog are copyrighted;  they are the property of Knee Deep In Grace and may not be used without written permission.

I don't read every book that my older children read, now.  When they were younger I did.  Still, I am mindful of what they're reading, what music they're listening to, what movies they're watching, and who their friends are.  I know their friends by name.  I trust my children, at this age, to make wise choices, following the standards we've set, in their reading material, music, viewing habits, and relationships.  They also keep themselves accountable.  I can pick up the current book they're reading, borrow their MP3 player at any time, go to the movies with them, or sit in on one of their gatherings. 
There are organizations, and companies that assist me, as a parent, in maintaining the Biblical standards that my husband and I set for our family.  They've put the time and effort into watching, listening, or reading, and reviewing for me.  Many of these are run by other parents, with similar standards, like Progeny Press.
Progeny Press was started in 1992, and is still family owned and operated.  They present good literature, teaching good literary analysis, measuring all things in the light of Scripture.  There are now more than 100 Study Guides available to instruct writers and readers in grades K – 12.
Study Guides can be found for Lower Elementary, Upper Elementary, Middle School, and High School.
They can be purchased Book-bound, PDF on CD, or email with attached PDF file.  The content is the same, no matter the form of delivery.
From $10.99 single guide to $27.99 book/CD set.
I have students using the Middle School Study Guide for The Cay, by Theodore Taylor –
"Eleven-year-old Phillip lives with his parents on an island off the coast of Venezuela in 1942, but when the Nazi's begin torpedoing ships nearby, Phillip's mother insists that he and she return to the United States. Their ship is torpedoed by a Nazi submarine long before they reach the U.S., however, and Phillip finds himself marooned on an island with an old, but strong, black deckhand named Timothy. But when Phillip goes blind from an injury, he slowly realizes how caring, wise, and resourceful Timothy really is, and the color of their skins is unimportant."
AND other students using the High School Study Guide for The Screwtape Letters, by C. S. Lewis –
"Screwtape, an undersecretary in the Lowerarchy of Hell, has undertaken the guidance and tutelage of his nephew Wormwood, who has been assigned a human patient to secure for eternity. In a series of letters, Screwtape guides the young demon through the finer points of temptation, the weaknesses and foibles of human beings, and the disaster of his patient becoming a Christian. Though this certainly complicates things, the two infernal beings won't let it stop them.
From this very skewed perspective, C. S. Lewis digs into the human nature, revealing some interesting, and sometimes embarrassing, tendencies. Touching on everything from sleeplessness to the "absurdity" of God's love for humanity, Screwtape imparts his wicked wisdom to Wormwood. Though the mirror he holds up to humanity is warped and cracked, it is still painfully revealing. Wit and parody mask a very serious analysis of what makes humans tick; and though it may make readers smile, it will also make us squirm as Screwtape picks at the cracks in our facades."
With each Study Guide, students need access to a good dictionary, a thesaurus, a Bible, and the internet or an encyclopedia.
It is suggested that the complete novel be read first.  We didn't know how we felt about this, as opposed to reading the book and the guide together from the beginning, but it actually makes the use of the Study Guide a little easier.  I imagine the creators of the guides already knew this.  After reading the story, the student works through the guide with the book as a constant reference.
Prereading activities are offered –
Written report
Map work
Time line
Vocabulary
Art work
Biography
Each Study Guide covers relative information –
Story Synopsis
About the Author
Background/Setting
Did I mention that Progeny Press Study Guides for Literature are interactive for 4th – 12th grade?  They can still be printed, if you like, but the student has the capability of placing answers directly on the PC and saving his work as he progresses.  The parent/teacher is able to grade the work in the same  manner, on the PC, and leave notes or comments.  My children love it!  Especially, my son, who would rather do nearly anything instead of writing.  The Study Guides are designed so he can clearly work through the questions and vocabulary, give his attention to critical analysis, dig deeper and consider the issues portrayed in the story, while viewing each through a consistent Biblical standard.  In his case, he can give complete answers, because his biggest obstacle is removed – he's released from hand-writing and has the option to type.  Amazing!
Optional activities include –
Presentations
Volunteer work
Essays
Research
Interviews
Brief report
Word search
Final essays are provided and post reading activities are discretionary.  High School credits are obtained 1/4 credit per Study Guide in 8 – 12 weeks.
(4) Completed Study Guides = (1) H.S. Credit
Click the graphic below to browse the Progeny Press Catalog.
 If you would like more information, please, follow the links I've provided throughout this post.  Progeny Press has a website that's easy to navigate.
Also, read other reviews, from The Old Schoolhouse Homeschool Review Crew members.
Comments or Questions?  Go directly to the source –
Progeny Press
P. O. Box 100
Fall Creek, WI  54742
~
Toll Free  1.877.776.4369
or
Phone 715.877.9951 ext. 100
~
Email – progeny@progenypress.com
and
Follow on facebook
I have no doubt these will be the first of many Progeny Press Study Guides for Literature we'll use.  Let me know which guide you choose, and what you think of it.
Blessings,
A trial period of this product was given to me, free of charge, in exchange, for my honest review, as a member of the TOS Homeschool Crew.  I receive no other compensation for my reviews on this blog.  The opinions expressed are my own.
Thanks for your comments. 
*Contents of this blog are copyrighted;  they are the property of Knee Deep In Grace and may not be used without written permission.

Just a little more than a week ago, I wrote a blog post, a review, and in it I said, "I don't believe that I have all of the answers to my children's educational needs, or that I'm even required to, but I can find the answers."  You thought that I said this, thought it, or wrote it for YOU, didn't you?  Well, I did; I want you to find encouragement here, but…you would not believe how many times in the course of one school year that I have to remind myself of this!  I still have much to learn.
I've told you in other posts, that I love reading, English, spelling and writing!  I even thought that I had a decent foundation in these areas.  Oh, woe am I, I recently sent myself back to school, with my students.  Our teacher?  Mrs. Janice Campbell, author of Excellence in Literature:  Reading and Writing Through the Classics, by Everyday Education.

We began at the beginning, with EIL::  English 1:  Introduction to Literature.  The first of 5 college preparatory levels:
(Note:  American and British Literature are co-published with the Institute for Excellence in Writing.)
 Introduction to Literature is written for grades 8 – 12 and has options for honors credit.  I find the reading and writing both stimulating and challenging, and we have not even properly used the honors options!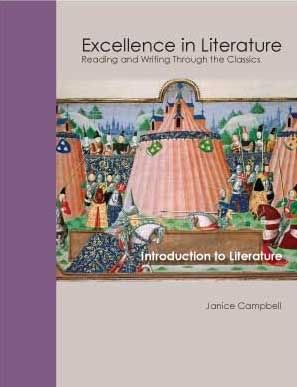 Click graphic to follow unit sample link.
 The text is written to the student and is designed to be self-directed.  There are 9 units per level, optimally completed within 4 weeks each.  Each unit focuses on a specific piece of writing, or group of writings – novels, drama & poetry.  These are the focus texts.  Additionally, a study of the author is done, including research on the historical time period the author is writing from and the art, music and influences of the day.  These context texts provide an in-depth understanding of the literature, making the analysis easier and more informed.  The student is encouraged to read the honors texts as well, if they desire to take AP and/or CLEP exams.  Finally, a composition, in answer to a specific essay question, must be planned, drafted, revised, polished and presented for evaluation.
Initially, as I read through the course syllabus, I was overwhelmed.  Even though the author says, "reading is a conversation between a reader and an author," and she successfully writes this way, I have neither taken a course, nor taught a course, with requirements such as these.  That's why I decided we would do the first units together.  Reading aloud, researching together, pooling our thoughts and openly discussing the essay questions.  We have not written anything, yet, or used the Evaluation Rubric that's provided, but we are learning.
My high school students are already past eighth grade and they don't have 5 years left to complete this exceptional literature course; so, we're being flexible and that actually has Janice Campbell's blessing.  Yes, each level ideally builds on the previous one, but it is also designed to mix and match, across levels as needed, to allow for – the coordination of literature levels with history studies, time constraints, etc.  My thought is that it is better for a student to complete only two levels in three years, while becoming comprehensively literate and discovering a treasure of great stories, plays and poems, than to strictly follow the lesson plan but never quite "get it."  Mrs. Campbell acknowledges that each family and student is unique.  She does have a goal for Excellence in Literature.
Her goal is to:
Introduce students to great literature from the western literacy tradition.
Teach students to read with discernment.
Train independent, self-motivated learners.
Provide tools that students can use to strengthen their writing skills.
Introduce students to sources for high-quality online and offline research.
Prepare students for college classes by expecting carefully-researched, well-thought-out material to be presented in standard format, with preliminary proofreading completed.
But even as we are striving to reach these goals, she gives us permission to suit the curriculum to our needs.  ("Thank you, Janice Campbell, I appreciate that freedom more than you may know.")  I'm more comfortable with the set-up every day, including my adjustments.  I've completely cut out a couple of focus texts and substituted a couple of honors texts in place of the assigned texts.  I chose T.S. Eliot's, Murder in the Cathedral (honor), over Pygmalion, by George Bernard Shaw (focus) and The Pilgrim's Progress (honor), by John Bunyan, over Gulliver's Travels (focus), by Jonathan Swift.  The Pilgrim's Progress is our first essay.  I have big plans to quickly glean as much as possible of English 1, steadily move through English 2 and maybe scratch the surface of English 3, before the next graduation.
I love this curriculum and I'm looking forward to actually following the prescribed lesson plan with my younger children!
Excellence in Literature is available in print or e-book.  I like this particular product in e-book format.  I had instant access and copyright permission to print as many copies as needed for my immediate family.
~
1 year/level – $29.
All 5 levels, now available, at one time – $139.
~
You can contact Janice Campbell several ways, the woman is everywhere!  =)
email is best ~ jceved@comcast.net
or
write ~
Janice Campbell
Everyday Education,LLC
P.O. Box 549
Ashland, VA  23005  USA
subscribe to her blogs ~
"Taking Time For Things That Matter"
and
"Do What Matters, Make It Pay"
or
click logo to follow on facebook.
Read other reviews of Excellence in Literature:  English 1:  Introduction to Literature, on The Old Schoolhouse Homeschool Crew Blog.
Blessings,
This product was given to me, free of charge, in exchange, for my honest review, as a member of the TOS Homeschool Crew. I receive no other compensation for my reviews on this blog.  The opinions expressed are my own.
Thanks for your comments.
*Contents of this blog are copyrighted;  they are the property of Knee Deep In Grace and may not be used without written permission.