Finding one's place in a big family can sometimes be difficult.  Having something that belongs just to you or that didn't belong to a sibling before you doesn't happen often, but sometimes it's nice.  It's a little affirmation that you are one-of-a-kind and not just part of the group.   I look for ways to let my children know that I see them as individuals.
Our youngest daughter is the youngest of 11.  She loves her position, but we've made it a point to let her know that she wasn't an afterthought.  She was/is wanted and she is an important part of our family.  It would be easy for everything she owns – clothes, toys, books & games – to be a hand-me-down, much is, but not all.  Truly, she probably wouldn't even mind, but I would; so, when I recently had the opportunity to review an ad-free learning website, for girls only, I was just a wee-bit excited about the possibilities!  I wasn't disappointed.
Always Icecream is geared for girls, ages 7-12, and it looks like it was created just for them.  It's pink and fun, and frufru and fun, and cute & sweet and fun!  Much to my youngest son's dismay, the website for boys only hasn't been completed, yet, but I hear it is in the works.  If I'd allow it, he'd learn & play right alongside his sister, but since I haven't, he can not wait for his site!  Why have a site, for girls only?  My guys and girls get along very well together.  My guys are a little more sensitive, considerate and compassionate and my girls are comfortable catching bugs and fishing, because of their interaction with each other, but it's not that way in every home or classroom.
"Online games for girls are games that have been specifically designed to meet the interests and curiosity of girls. This gender-focus makes it possible that "girls can be girls" without the fear of being bothered by boys who tend to make fun of everything that girls consider "cute."
"Within the target age group of 7-12 years, children's preferences and ways in which they can be motivated tend to be influenced by gender.  Collaborative play (girls) versus competitive play (boys) and girls tend to be attracted by virtual goods that are "decorative", such as clothes, versus "useful", such as machines or armor."
"Notwithstanding the differences in brain development and socialization, Always Icecream is adamantly opposed to stereotypes such as "girls are not interested in science or math." The site challenges its young members to engage in learning activities across a broad spectrum of subjects:
Language Arts
Math (basic and advanced)
Science
Computer Skills
Geography
History
Foreign Languages
Music & Arts
and Religious Education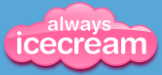 I asked my daughter for her opinion of Always Icecream.  She said, and I quote:
"I love it!  You get to make your own house and you get your own pet.  It's fun!  The learning is still fun, too.  I am learning, you know.  There are so many activities, I can't even tell you!  I'm practicing typing and I'm learning my states.  Want me to show you?  I'm getting higher and higher in my math and I got all of the Bible questions right, last time, because we had just learned about two of them in Children's Church!  The pet world thingy-place is my favorite!  The pets can play games and do stuff.  You can buy them accessories, (yes, that's her word.  We are big Fancy Nancy fans, but I'll save that for another time) like a necklace or a bow.  You use your $coops to buy stuff.  ($coops is the earned currency in the Always Icecream world.)  You buy them food and feed them, like carrots for the rabbit, not bacon or dog bones, of course.  You give them cuddles and love and their hearts go up!  I already said it, I just love it!"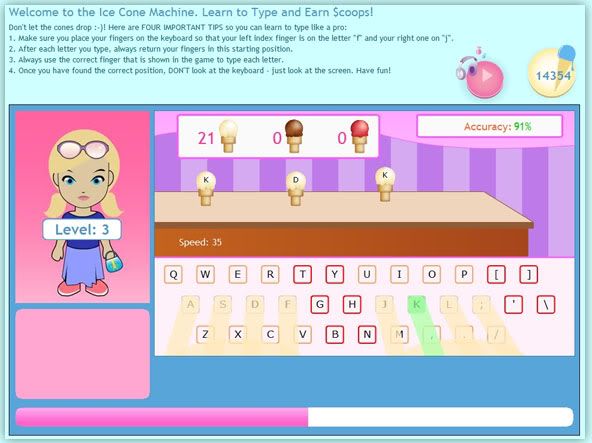 School time.  Learning time.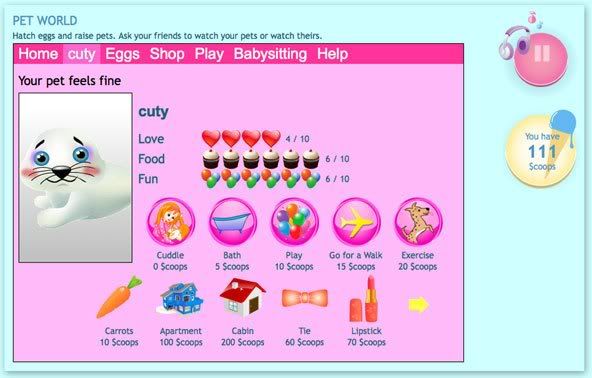 Play time.  Reward time.
Parental participation, behind the scenes, is encouraged.  Parents sign-up to receive a progress report, once a week, and may choose a number of $coops to be rewarded for special in-real-life projects, chores or accomplishments.  My kids are on a rotation to clean the cat's litter box.  Our youngest was rewarded $coops for doing it without having to be reminded.  Granted, she would like to go to Dairy Queen in the future for real-world ice cream in exchange for a real-world chore, but since she usually only gets a "thank you" she thought getting $coops was actually "pretty cool."
The girls earn $coops currency for completing their learning tasks, challenges, games & videos.  They create a mini-me avatar and can switch her clothes, buy rooms for the house and purchase furniture, pets and more.  My girl loved this!
There is also a social feature available, set up by the parent, that enables or not, the girls to "make friends" and communicate with one another safely through Always Icecream.  Although we didn't choose to activate this feature, I do appreciate the excellent safety measures that are in place for the girls.  Click the graphic below for more information.
*  $4.99 per month  *  $29.99 per year  *  $99.99 for a lifetime membership  *Take a quick tour of the site and try out FREE GAMES before you buy.  "Satisfaction guaranteed: Your daughter will have fun and learn relevant skills – or you get your money back!"
You'll want to read more reviews by my crew mates and their girls.  Click the TOS banner below to get the full $coop!
Contact:
email – feedback@always-icecream.com
or visit
Blessings to you and your girls,
This product was given to me, free of charge, in exchange, for my honest review, as a member of the TOS Homeschool Crew. I receive no other compensation for my reviews on this blog.  The opinions expressed are my own.
*Contents of this blog are copyrighted;  they are the property of Knee Deep In Grace and may not be used without written permission.