Just a little more than a week ago, I wrote a blog post, a review, and in it I said, "I don't believe that I have all of the answers to my children's educational needs, or that I'm even required to, but I can find the answers."  You thought that I said this, thought it, or wrote it for YOU, didn't you?  Well, I did; I want you to find encouragement here, but…you would not believe how many times in the course of one school year that I have to remind myself of this!  I still have much to learn.
I've told you in other posts, that I love reading, English, spelling and writing!  I even thought that I had a decent foundation in these areas.  Oh, woe am I, I recently sent myself back to school, with my students.  Our teacher?  Mrs. Janice Campbell, author of Excellence in Literature:  Reading and Writing Through the Classics, by Everyday Education.

We began at the beginning, with EIL::  English 1:  Introduction to Literature.  The first of 5 college preparatory levels:
(Note:  American and British Literature are co-published with the Institute for Excellence in Writing.)
 Introduction to Literature is written for grades 8 – 12 and has options for honors credit.  I find the reading and writing both stimulating and challenging, and we have not even properly used the honors options!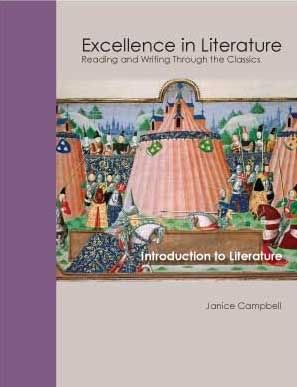 Click graphic to follow unit sample link.
 The text is written to the student and is designed to be self-directed.  There are 9 units per level, optimally completed within 4 weeks each.  Each unit focuses on a specific piece of writing, or group of writings – novels, drama & poetry.  These are the focus texts.  Additionally, a study of the author is done, including research on the historical time period the author is writing from and the art, music and influences of the day.  These context texts provide an in-depth understanding of the literature, making the analysis easier and more informed.  The student is encouraged to read the honors texts as well, if they desire to take AP and/or CLEP exams.  Finally, a composition, in answer to a specific essay question, must be planned, drafted, revised, polished and presented for evaluation.
Initially, as I read through the course syllabus, I was overwhelmed.  Even though the author says, "reading is a conversation between a reader and an author," and she successfully writes this way, I have neither taken a course, nor taught a course, with requirements such as these.  That's why I decided we would do the first units together.  Reading aloud, researching together, pooling our thoughts and openly discussing the essay questions.  We have not written anything, yet, or used the Evaluation Rubric that's provided, but we are learning.
My high school students are already past eighth grade and they don't have 5 years left to complete this exceptional literature course; so, we're being flexible and that actually has Janice Campbell's blessing.  Yes, each level ideally builds on the previous one, but it is also designed to mix and match, across levels as needed, to allow for – the coordination of literature levels with history studies, time constraints, etc.  My thought is that it is better for a student to complete only two levels in three years, while becoming comprehensively literate and discovering a treasure of great stories, plays and poems, than to strictly follow the lesson plan but never quite "get it."  Mrs. Campbell acknowledges that each family and student is unique.  She does have a goal for Excellence in Literature.
Her goal is to:
Introduce students to great literature from the western literacy tradition.
Teach students to read with discernment.
Train independent, self-motivated learners.
Provide tools that students can use to strengthen their writing skills.
Introduce students to sources for high-quality online and offline research.
Prepare students for college classes by expecting carefully-researched, well-thought-out material to be presented in standard format, with preliminary proofreading completed.
But even as we are striving to reach these goals, she gives us permission to suit the curriculum to our needs.  ("Thank you, Janice Campbell, I appreciate that freedom more than you may know.")  I'm more comfortable with the set-up every day, including my adjustments.  I've completely cut out a couple of focus texts and substituted a couple of honors texts in place of the assigned texts.  I chose T.S. Eliot's, Murder in the Cathedral (honor), over Pygmalion, by George Bernard Shaw (focus) and The Pilgrim's Progress (honor), by John Bunyan, over Gulliver's Travels (focus), by Jonathan Swift.  The Pilgrim's Progress is our first essay.  I have big plans to quickly glean as much as possible of English 1, steadily move through English 2 and maybe scratch the surface of English 3, before the next graduation.
I love this curriculum and I'm looking forward to actually following the prescribed lesson plan with my younger children!
Excellence in Literature is available in print or e-book.  I like this particular product in e-book format.  I had instant access and copyright permission to print as many copies as needed for my immediate family.
~
1 year/level – $29.
All 5 levels, now available, at one time – $139.
~
You can contact Janice Campbell several ways, the woman is everywhere!  =)
email is best ~ jceved@comcast.net
or
write ~
Janice Campbell
Everyday Education,LLC
P.O. Box 549
Ashland, VA  23005  USA
subscribe to her blogs ~
"Taking Time For Things That Matter"
and
"Do What Matters, Make It Pay"
or
click logo to follow on facebook.
Read other reviews of Excellence in Literature:  English 1:  Introduction to Literature, on The Old Schoolhouse Homeschool Crew Blog.
Blessings,
This product was given to me, free of charge, in exchange, for my honest review, as a member of the TOS Homeschool Crew. I receive no other compensation for my reviews on this blog.  The opinions expressed are my own.
Thanks for your comments.
*Contents of this blog are copyrighted;  they are the property of Knee Deep In Grace and may not be used without written permission.