25 Truths: Life Principles of the Happiest and Most Successful Among Us, by Ed Douglas, from Ed Douglas Publications, has the potential to be a powerful tool in anyone's life, when it is read and consistently applied.

It is a small, paperback book, just 5″X7″ and 150 pages.  It contains more than ideas, theories or mere possibilities, though. Written on these pages are proven life experiences, and principles of successful living.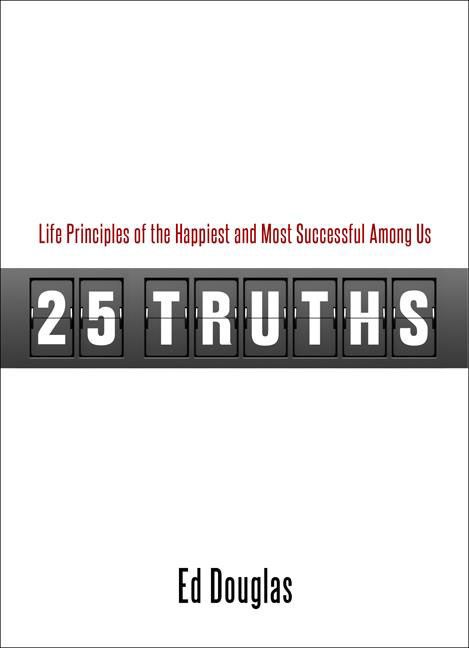 Each chapter title is a truth, a life principle; followed by a famous, relative quote or scripture reference.  Mr. Douglas then shares a story of life experience, from his own life, the life of someone he's known; or an historical account, to expound on and reinforce the importance of each of the 25 Truths.  There is a brief Summary and Workshop of discussion questions included at the end of every chapter. The chapters are a clear and concise 3 – 5 pages max, teaching on character & values, interaction with others, faith, family, health & happiness; and more.
Basically written for 6th – 12th graders, I chose to use it with my children and grandchildren, ages 8 – 14. When I knew my grandchildren were going to be spending their summer vacation camping with us, I decided I would use 25 Truths:  Life Principles of the Happiest and Most Successful Among Us, as our daily devotional.  I read it to them in the morning, at lunchtime, or winding down before bed.  I would read one of the Truths and the discussion questions that accompany it, to myself, ahead of time.  That took a whole 3 – 4 minutes!  Then, we'd gather around the camp fire, start with prayer; and I'd read aloud.  I used the discussion questions to help guide me and ensure I covered all the key points, but I chose to stop reading at different places throughout the text, and ask questions that would prompt sharing; instead of using them exclusively at the end of the chapter.  We "chased a few rabbits," as they say, and "got off on a tangent or two," because of this decision, but the book definitely facilitated a good, open discussion between us.  After we wrapped up our lesson, we'd close in prayer, asking God to bring the Truth to mind and help us live it out.  It was a focused 15 – 20 minutes, once a day, using it this way.  I think we all enjoyed the time and I expect it will have long lasting rewards.  More than once during our days together, one or another would reference one of the Truths we had studied, as a way of accountability, in casual conversation, when they thought of another personal story that connected to something they remembered; or with pop quizzes to see who could name the most Truths. It was apparent they were thinking about the 25 Truths, even when we weren't studying them.
I'm going to assign this little gem of a book to my high school age children this coming year.  Because it's based on a sound, Christian world view, I believe it will make a great study of character values.  They can read it themselves, and answer the discussion questions in writing.
I think the positive reinforcements and benefits of Ed Douglas' 25 Truths is worth more than $12.50, but I appreciate the price, because it's affordable to purchase as a gift, also.
Comments or Questions?
Ed Douglas Publications
2109 Oaklawn
Chillicothe, MO  64601
In addition, several of my Crew mates have written reviews of 25 Truths: Life Principles of the Happiest and Most Successful Among Us, and you can find them when you click the banner below and follow the link.
"It is my belief," writes Ed Douglas, "that understanding and practicing these truths can help put the "man" together one person at a time so that, together, we can help the world fall into place."  I'm willing to do my part. . .
Blessings,
Disclaimer*   I received the book, 25 Truths, in exchange for my honest review as a member of the Schoolhouse Review Crew.  I receive no other compensation for my reviews on this blog.  The opinions expressed are my own.
Thank you for your comments.  I enjoy hearing from you!
Contents of this blog are copyrighted;  they are the property of Knee Deep In Grace and may not be used without written permission.