"The more you know about yourself, the better prepared you will be to make quality decisions for your future."  

 telephone: 1.800.779.3472
Dr. Sanford Kulkin has more than 25 years experience in the study and application of social behavior and personality assessment. Since 2004, PeopleKeys.com has helped thousands of organizations achieve their corporate goals.  Assisting them with employee assessments, behavioral analysis; and more.
StudentKeys have been designed to identify student strengths in the areas of:
Communication

Learning
Thinking
Career Choices
Motivation
Career Setting
As a member of the Schoolhouse Review Crew, I've recently had the opportunity to use and review the StudentKeys Student Binder Package, valued at $49.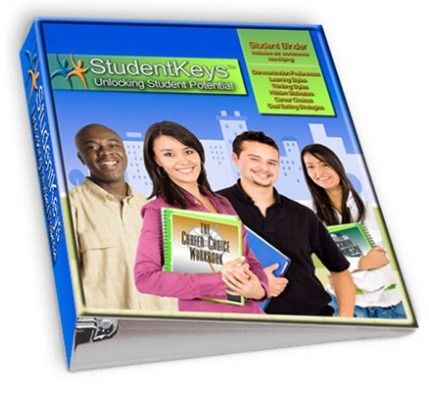 This binder includes six separate StudentKeys workbooks, primarily written for use by high school through college age students.  They are each 8 1/2″ x 11″, small (17 – 24 pages), black on white paper workbooks.  They can aid us, as parents and teachers, in recognizing, understanding; and teaching to our children's strengths.
The Personality Style WB
=  designed to help you understand your strengths, limitations and encourages you to appreciate your differences and the differences of those around you.  "Personality styles are the language of observable behavior."
The Perceptual Learning Style WB
=  created to assist you in understanding how you best absorb information and learn through your senses.  It explains the differences between the three styles of learning — Auditory, Visual, and Kinesthetic — and then profiles your personal style of learning.
The Cognitive Thinking Style WB
=  intended to enhance your understanding of how your mind thinks.  Different thinkers — Literal, Intuitive, Theoretical, or Experiential — are motivated to learn in different ways.
The Values Style WB
=  designed to help you understand and clarify your personal values style; noting that values are underlying motivators that affect every area of our life.
The Career Choice WB & The Goal Setting WB
=  acknowledge your personality style using the D.I.S.C. profiling system, and help you make critical decisions, and plans to positively affect your future.
~
I originally wanted this Student Binder for my high school senior.  Once I received it and browsed through it, I decided I should include my freshman daughter, as well.  Every page of every workbook says, "All Rights Reserved.  Duplication Prohibited," so one of the first things I did was to call StudentKeys – 1.800.779.3472, to ask their policy for making copies of worksheets within my family.  They didn't hesitate to assure me they had no problem with my copying work pages for my own children.  They just don't want anyone taking advantage of their generosity (my words) and making copies for co-ops or corporate.  I truly appreciate this, and decided that my college age children, my husband and I would all benefit from working through this binder.
These workbooks can easily be used alone by high school students, but I chose to facilitate the tests and exercises.  Yep, that's my personality!  We learned, and continue to learn, to identify, understand, observe; and build effective relationships.  This is designed for high school and college classrooms, roommates, jobs, etc.; but you can see why I was excited to have more insight into better working relationships within our own family.  For the most part, it's been accurate, real, and good for us.
We've been reminded that no learning style is better than another.  They all have strengths and weak areas.  This was very affirming to some of my kids!  They're learning that they can become skilled in using all of their sensory channels, if they explore them to understand them, and then apply what they learn.  The questions and exercises throughout each of the workbooks are very helpful.
The Thinking WB  includes a thorough profile, explanation, examples and worksheet exercises.  My students didn't feel labeled, but felt they were given a tool to discover and understand how to maximize their strengths, while minimizing their weaknesses.  I wished I'd had these tools years ago!
Even in the same family and household, each person operates on a system of values that is unique to them.  I didn't understand this before, nearly as well as I do now.  Our values determine our perception of everything, and everyone around us.  Without a clear understanding of our own value system and attempting to understand differing values styles, we have the tendency to become hurt and offended, fearful of interaction with others, and even unsympathetic.  We're in the process of seeing each other a little clearer.
We have enthusiastically browsed the Career and Goal Setting workbooks, but we haven't really used them, yet.  The opportunity to  read lists of General Occupations enjoyed by each, individual personality style is definitely interesting.  A couple of my children have already had their present career choices confirmed, and that was quite a confidence builder.  The Goal Setting WB appears to include a lot of tips and worksheets — setting Career Goals, Educational Goals, Leisure Goals, and Personal Goals — with instruction for understanding and managing obstacles; and prioritizing and making a workable timeline.  Intensive, but we're looking forward to getting to it!
The StudentKeys Student Binder is a valued asset to being our best selves and doing our best to achieve the purpose God created each of us for.
Please, browse the PeopleKeys website, and click the banner below and follow the link to read what my fellow Crew mates have to say about this product, too.
Blessings,
Disclaimer*   I received the StudentKeys Student Binder Package, in exchange for my honest review as a member of the Schoolhouse Review Crew.  I receive no other compensation for my reviews on this blog.  The opinions expressed are my own.
Thank you for your comments.  I enjoy hearing from you!
Contents of this blog are copyrighted;  they are the property of Knee Deep In Grace and may not be used without written permission.